---
TAKE TURNS GETTING ELECTROCUTED BY A MAGICAL SPHERE!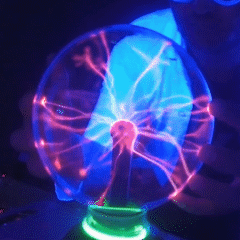 What exactly is plasma?
Plasma is a gas that has been heated to extremely high temperatures.  These plasma globes are often used to demonstrate the physics of electrical currents in school science laboratories. 
How it works:
1.  The sphere itself is made of thick clear glass.  At its center, it contains a high-voltage electrode, also known as a Tesla coil.
2.  The sphere is filled with inert, noble gases under a partial vacuum and is powered by a low-voltage power supply.
3.  When in use, beams of colored light are produced that extend from the center to the outer glass as the gases inside ionize. 
4.  An electromagnetic field is also produced around the ball, which diminishes with distance from the electrode.
Safety:

Anyone who has a heart condition, or using a medical device such as a pacemaker, implanted defibrillator, cochlear implant, or hearing aid should not touch the plasma ball.
Do not leave your hand on the ball for extended lengths of time

 

as a significant amount of heat will be generated.
Do not handle the ball with wet hands

 as a shock may be produced

Keep electronic devices, such as mobile phones and computers, away from an operating plasma ball.
Keep an operating plasma ball AWAY from metal surfaces and metal objects.
Remove all metallic jewelry before using the plasma ball.
Note:
-  The product is connected through the thermal power 220V, 12V low voltage output, which is safe to use.
-  Plasma balls are generally regarded as safe devices, however, when dealing with ANY apparatus that generates an electric current, there are several safety measures that should be implemented.
SPECIFICATIONS:

Type: Night Light
Shape: Round
Bulbs Included: Yes
Model Number: Electric Magic Ball Night Lamp
Item Type: Night Lights
Is Batteries Included: No
Body Material: Glass
Battery Type: NONE
Light Source: LED Bulbs
Power Generation: Switch
Voltage: 220V
Power Source: AC
Is Batteries Required: No
Wattage: 0-6W
Lamp Name: Party Lamp Light
Product Type: Electrostatic Sphere Light
Lightning Light Lamp: Plasma Ball globe
Feature: Night Light
Style: plasma lamp
Night Light: plasma ball lamp
This section doesn't currently include any content. Add content to this section using the sidebar.